This post has been compensated by Collective Bias, Inc. and AcneFree. All opinions are mine alone. #AcneFreeSummer #AcneFreeLife #CollectiveBias
How many times have you caught yourself saying, "If I only had a little more time in the day!"? I honestly tell Josh all the time that I would feel like wonder woman if I only had a little more time to do the things I want or need to do. To be honest, I feel like I spend so much of my day doing busy work or not-so-productive things. Well, with that need in mind, I decided to come up with a few ways we can up our productivity and capture a few more moments by the end of the day by doing some insanely easy things that save us time and mind-power. And if you have some ideas of your own at the end of the post, share them in the comments below! We could all use 15 more minutes in our day!
1 | Plan out your day with a to do list
I'm not sure about you, but sometimes during my day, even though I have 1000 things to do on my mental list, I find myself standing around feeling either too overwhelmed to get started or just not sure what to do first. When I don't take the time to plan out my day, I probably waste at least 15 minutes backtracking because I started doing tasks in an awkward order or just trying to figure out what I should do next. Instead of fumbling around like me, make a little to-do list the night before in order to help yourself organise when would be the best time of day to get certain tasks done and what order it makes the most sense to do those tasks. You'll end up moving seamlessly from one task to another without wasting time backtracking or thinking of what to do next.
2 | Set out your outfits the night before
Whether you work or are just planning on a busy day with the kids, setting out your outfit the night before a busy day will save you 15 minutes in the morning, promise. Cut out the time spent sorting through the closet and throwing rejects on the bed by planning out your best replica of a Pinterest outfit the night before. Doing things in the morning always takes twice as long anyway with the the leftover nighttime grogginess still lingering around.
3 | Skip the makeup
When I was in highschool, my bus to school stopped at the end of our road at 7:05 a.m. Do you know what time I would set my alarm to get up, shower, blow dry my hair, do my makeup, and get dressed? 5:30 a.m. I was willing to lose SO MUCH SLEEP in order to put myself together for the day and would spend an hour and a half on my morning routine.
Nowadays, I have two kids and a much more demanding schedule. It's still important to me to look my best, but I don't have the luxury of spending an hour and a half on my morning routine! That's why I've made it a priority to help my skin look it's very best in order to cut back on my time spend on doing my makeup and covering up blemishes. AcneFree® Sensitive Skin 24 Hour Acne Clearing System and Therapeutic Sulfur Mask are awesome for controlling new breakouts, reducing redness and eliminating blackheads for consistently clear skin. AcneFree is the only brand that makes acne-clearing systems formulated with Advanced Micro-Benzoyl Peroxide which is designed to work faster and penetrate deeper into pores– without the harshness and over-drying that can occur with traditional benzoyl peroxide!
I love AcneFree's 3-step Clearing System because it has everything your skincare routine needs to help keep skin clear and looking fresh!
Get your AcneFree Clearing System at Amazon and See how others enjoy the benefits of AcneFree skin!
Click the image below to shop AcneFree!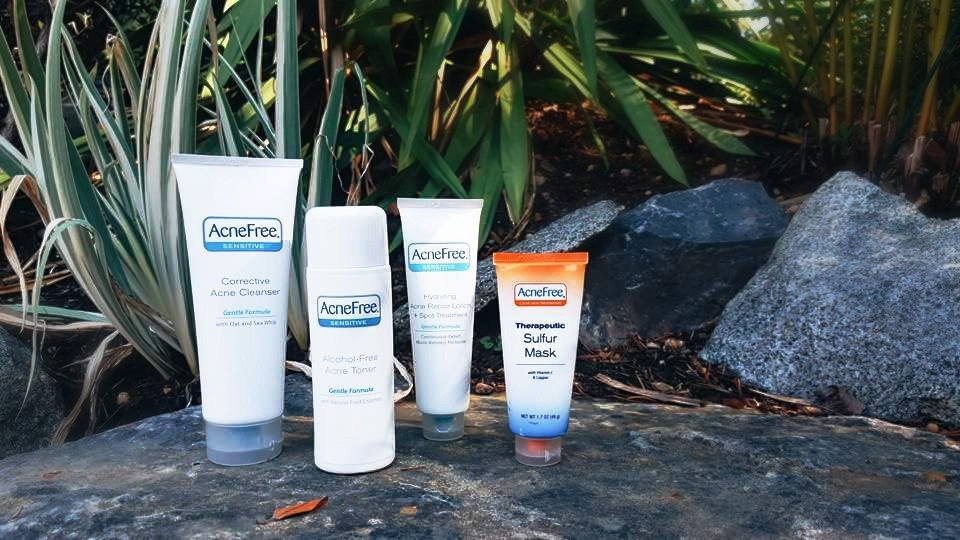 Also, on August 14th, AcneFree launched a 4-week SWEEPSTAKES! 3 Grand Prize Winners will win $1,000 plus AcneFree Supplies for a year. AcneFree will also give away 10 AcneFree® 24 Hour Acne Clearing Systems every week for 4 weeks!
No Purchase Necessary. To enter, simply enter your name and email address here. Use the same form to follow on Instagram and Facebook to earn extra entries!
For more information full rules, click here.