This post is sponsored by Silk® and Café Bustelo®.
I think a big theme for this year is togetherness. We're heard it 1000 times, "Together apart."

Everyone's experienced so many changes this year, and our family is no different. My work had to make a big pivot in order to stay afloat and I was very much involved in that process which meant working when I woke up and until I went to bed. We experienced quarantine and social distancing, our family moved across the country. Now that we've more or less settled in and found our "new normal," Josh and I have been trying extra hard to create quality time with the kids. This year has been a lot! And we all need a reminder sometimes that we're loved, valued, enjoyed, and not alone. 

So after all of that, I think we now have a better understanding of what makes real quality time achievable and realistic:
1 | Not taking on too much.2 | Taking time to enjoy the simple things.
Here are a few of life's simple pleasures we're learning to not take for granted and use them as a small family refresh as we head into this holiday season.

1 |  Get some fresh air. 
I mean, literally. We've spent A LOT of time indoors this year. How nice does it feel to be able to get out on a walk with the family after dinner and enjoy the cool air that's now here? Working from home, I can sometimes go a couple of days without even leaving the house! And I don't even realize it at the time but it really does have an effect on my mental state. So, even if it's just for a short walk in the neighborhood, Josh and I typically try to get a walk in with the kids and Rainy after dinner and before bed.

2 | Making every day a little special.
Trust me, I totally have those mornings where you've woken up but haven't necessarily opened your eyes yet and you think, "Here we go again." 
On mornings like that, I like to "incentivize" getting out of bed, if you will, for both me and the kids. My go-to morning treat is a hot cup of Cafe Bustelo® Latin American Blends coffee. On the weekends, I like to slow down and brew it in a french press, during the school/work week, I'll use my single-cup coffee maker. Trust me – I'm picky about coffee. I always like to try my coffee black before I add anything to it. It's a unique dark roast coffee with rich flavor and hints of cocoa. It is so good.

I pair that with Silk® Dairy-Free Half & Half Alternative. It's half oat milk. Half coconut milk. All yum. Traditional half & half makes my stomach hurt in minutes but this is dairy-free and oh so creamy. It's vegan, non-GMO, and Keto friendly. I also love the slight nutty flavor that I think blends with the Cafe Bustelo® perfectly. 

I see this perfect combo as a guilt-free morning treat the doesn't come back to bite me later. Give it a try and let me know what you think!
And while I'm enjoying my treat in the mornings, I like to surprise the kids with their own cup of hot chocolate. How nice it it to be able to warm up before stepping out in the cold on our way to school?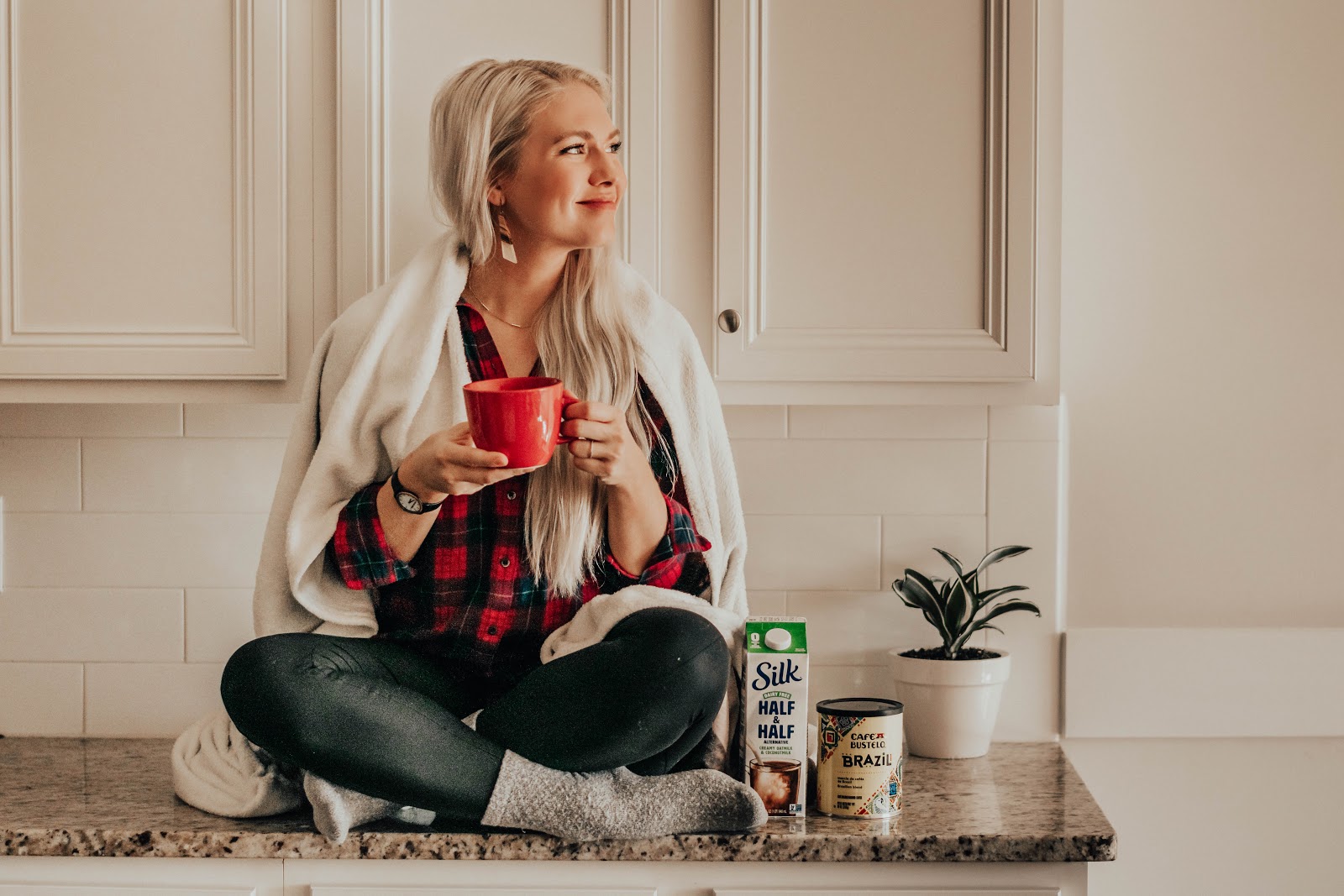 3 | Family movie nights
To be honest, this isn't something Josh and I have done much with the kids until recently. I think that with the virus, this has been the year of the screen, so in an effort to minimize screentime, we haven't been allowing the kids to watch movies before but. 
But – just recently we've started watching the newer Lost in Space together as a family. It's just slightly scary at times for the kids but Josh and I feel comfortable watching it together with them. It's a great time of slowing down, cuddling together, and having a shared family experience before bedtime. 

4 | Cooking + baking together
Along with being the year of screens, it's been the year of ordering our for us! The past month or so, Josh and I have been reigning it in for our health's sake and also our bank account's sake. Not to mention, the kids LOVE getting to help us cook dinner so it doubles as a fun activity for them and TRIPLES as family bonding. What's better than that.
We've now gotten into the routine of mapping out our meals for 2 weeks. Then, we go to the grocery store and get ALL the food we need for the next two weeks and follow our meal plan for that time. We're allowed to order/eat out once a week, the rest of the nights we're either cooking or munching on leftovers. Honestly, it's been a great way to save extra money each month and our tummies are saying "Thank you!!"

5 | Mood-boosting playlists
I always forget just how much a good playlist either boosts my mood, ups my productivity, or makes our home feel festive for the holiday season! Have fun making a playlist with the family for different occasions! Road trips, tree decorating, baking cookies, whatever!

What are the simple pleasures you're taking the time to enjoy this holiday season? While you're out doing your holiday shopping, remember to pick up Cafe Bustelo® Latin American Blends coffee and Silk® Dairy-Free Half & Half Alternative in the grocery section of Target! You can also save money on both of these products with the Circle offers in the Target app.